Hey everybody, Geddy Cahoon here with a new edition of Action Figure Round-Up. Today I'll be taking a look at Mattel's WWE Elite 17 line, which is currently up for Pre-Order at RingsideCollectibles.com! Mattel's Elite line features figures with higher quality movement and accessories, for a jacked up price. These figures typically fetch more on the secondary market, because they're often seen as the definitive versions of each performer.
** Note that because these figures do not hit for some months, the pictures shown are effectively prototypes, from Comic Con, and are not necessarily representative of the final product in every way
Elite 17 includes:
John Cena (Releases Early September) – $19.99
Mattel has a sort of unspoken policy in which they release one or two "sure thing" figures per line. Typically it's Rey Mysterio or John Cena. With Elite 17, we get another iteration of John Cena. It features the same cartoonish Cena headsculpt we often see from Mattel on Elites, but Mattel has made worse Cena faces. The gear is outdated, but passable for the most part. Mattel has a real issue with getting figures out concurrent to the person's look. He features a removable hat, shirt, chain, and arm band (not visible). One of the glaring issues with this figure is that his camo shorts are far too short. They look goofy and hopefully the issue will be rectified come retail time, but it's doubtful. This Cena may be a tough sell for most, even at retail, especially at the slightly jacked Ringside price.
Zack Ryder (Back-Ordered due to High Demand; releases Early October) – $34.99
This figure could possibly considered the definitive Zack Ryder. It features a removable headband, removable sunglasses, and something Ryder fans have been clamoring for for months: The Internet Championship. Mattel has gone all out with the belt. The logo is highly detailed and it by the looks of the Comic Con display, the plates of the belt are indeed vac-metalized. It also features a color-scheme we've never seen on a Ryder figure, a design on his knee-pads, and Mattel's spot-on new Ryder headsculpt. He is a tad pricey, but his value may go down if Mattel realizes the fan demand for this guy and packs more of him per case at retail.
Kofi Kingston (Releases Early September) – $23.99
This time around, Kofi Kingston gets an update from Mattel. Previous figures all shared the same headsculpt and body, with some minor tweaks to the attire. For this figure, Mattel has given Kofi a much more muted headscuplt than his previous one. From the looks of it, Kofi only features one accessory – One half of the Tag Titles. Unfortunately it will NOT be vac-metalized, making the high price on this one something of a bummer. Kofi's trunks feature Battle Cat from He-Man and The Masters of the Universe (I try to be objective in this feature, but as a massive He-Man fan, these trunks are freaking awesome. Here's hoping his Skeletor trunks get a figure too), and though for the most part I can understand the rationale behind Ringside's pricing, I can't begin to fathom why Kofi is priced so high. He may be a figure you want to wait until he's available at retail to pick up.
Mankind (Back-Ordered due to High Demand; releases Early October) – $29.99
I believe this is Mattel's first Mick Foley figure, and assumedly Mattel will be releasing several Foleys, each on representing a different character he's portrayed. Mankind here features a removable mask as well as a (Presumably) removable Mr. Socko. There's not a ton to be said here, other than that it's a decent enough looking figure, the waist is a little small in comparison to the body, and Mankind and Mick Foley are both cool enough that the high demand and, in turn, price for this guy is understandable. At retail he probably won't be appearing in droves or anything, so pick this guy up before his price skyrockets even more.
Kelly Kelly (Back-Ordered due to High Demand; releases Early October) – $34.99
There are a lot of factors that went into making this Kelly Kelly the second most sought after offering in the line. First of all, Mattel isn't exactly known for consistently releasing figures of the Divas. When they do, people pounce on these things like Oprah on a baked ham (Extra points if you know what that line is originally from). I know it doesn't seem as though she comes with a plethora of accessories or anything – She doesn't. Simply the jacket and the belt, that's it. But that's where most of her appeal lies. The previous iteration of the Divas title in figure form was packaged with the impossible to find Bella Twins, and was NOT vac-metalized. In fact, it looked rather gaudy and cheap, molded in a bright pink plastic that did the ridiculous design no favors. This time, Mattel has apparently gone all out with our favorite platinum/pink title. Metalized, intricately designed plates that are apparently attached to the higher quality sewn strap, the Divas title is really beautiful this time around. Mattel's new Kelly headsculpt is passable as well. If you feel that Kelly and her title are essential to your collection, pick her up now, price be damned. You'll have virtually no chance of finding her in stores, and her price on the secondary market is only going to go up.
Sheamus (Releases Early September) – $22.99
The color-scheme on this iteration of the Belfast Brawler is surprisingly up to date, and Mattel's new Sheamus headsculpt looks much more realistic (While retaining some form of cartoonishness) than the others. That's all I can really say here, because Ringside's photos of this guy are bare bones. I have no idea what accessories he comes with, etc. I've heard rumblings that it'll be a chain, and a non vac-metalized Heavyweight Championship. Until we see some more photos, this one's price may seem a little high since you're essentially buying blind.
Buy The Complete Set (Back-Ordered; releases Early October) – $139.99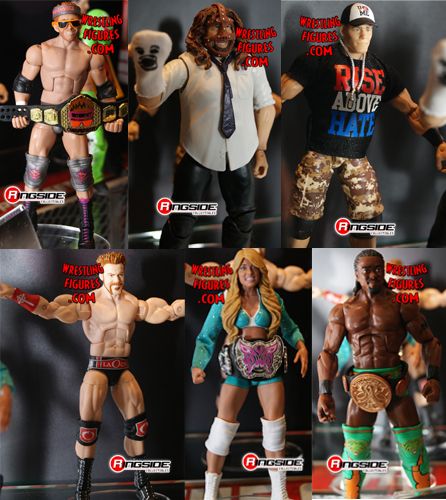 Be sure to leave us a comment to let us know what you thought, or drop me a line on Facebook (Nodq Geddy Cahoon) to leave your opinion!
That's it for today! Be sure to check back tomorrow for links to some more plastic-y goodness!