Hey everybody, Geddy Cahoon here with another edition of the Action Figure Round-Up. Today I'll be looking at the Ringside Collectibles Exclusive Mattel Elite NWO Randy Savage figure, which is In-Stock at Ringsidecollectibles.com!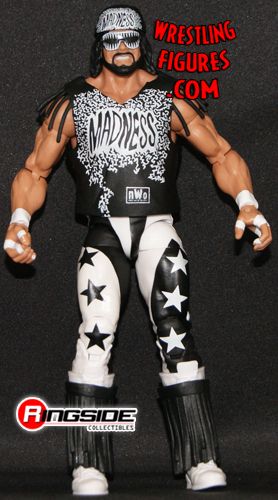 Every now and then, Ringside will have the primary figure companies produce a limited number of exclusive figures specifically for the site, that will never hit retail. These figures typically come with a few more accessories than normal, a unique sculpt aspect or two, and have an inflated price. The NWO Exclusive Macho Man is no exception. It features the standard Mattel Macho Man body sculpt, with an all new "angry" headsculpt and a black and white color scheme. He also features a removable poncho, bandana, sunglasses, and belt. For the asking price it's not a bad looking figure, though the headsculpt is a bit odd looking and it's obviously the kind of figure that appeals mostly to collectors. You may want to think about whether or not the decent aspects of the figure are worth the somewhat odd head.
To tell us what you thought, drop us a line on the official site Facebook page or friend me on Facebook. Check back tomorrow for links to more plastic-y goodness.