Hey guys, Geddy Cahoon here with another edition of the Action Figure Round-Up!
Today I'll be taking a look at Mattel's WWE Battle Packs 18, which is In-Stock at Ringside Collectibles.com!
Battle Packs come with two figures – Typically for the price of two figures, but obviously they fetch more on the secondary market – and an accessory of some sort. They tend to involve two guys who are feuding or have feuded recently, and it can be a good deal if you can't find the single-carded figures.
Battle Packs 18 Features:
Wade Barrett and Randy Orton – $24.99
Orton and Barrett both feature relatively new headsculpts and Barrett's attire is spot-on to what he was wearing prior to his unfortunate injury. The set also features a crutch for some reason as the accessory. Not a bad deal for the asking price, as the Wade Barrett is really quite nice, rectifying the issues of the original Wade Barrett figures.
HHH and CM Punk – $24.99
The Punk in this set is almost all new – It features the new Mattel Punk headsculpt which is actually quite nice, and an all-new color scheme that we've never seen on a Punk before. However, the HHH is a different story. The head is new, but quite ugly, and the body is ridiculous looking – Much too jacked to be an adequate representation of Hunter. Couple that with the rather stupid accessory – A "crowd barrier" that is absolutely not the type of crowd barrier you'd actually see at a WWE venue – and this set is a tough sell at the asking price.
Zack Ryder and Dolph Ziggler – $29.99
All of the rivalries represented in this set are highly outdated, and this one is no different. It's also the most expensive of the bunch, because Ringside bases their prices on popularity and demand. However, these two might be worth it. The new Zack Ryder headsculpt is fantastic, blowing the original out of the water. Dolph Ziggler is a figure Mattel has always done right. However, this set does continue the trend of "Inexplicable accessories." Rather than feature a US Title, which would've made a lot of sense, these guys come with a ring bell. The figures are nice enough that the increase in price is somewhat justified.
Buy The Complete Set – $69.99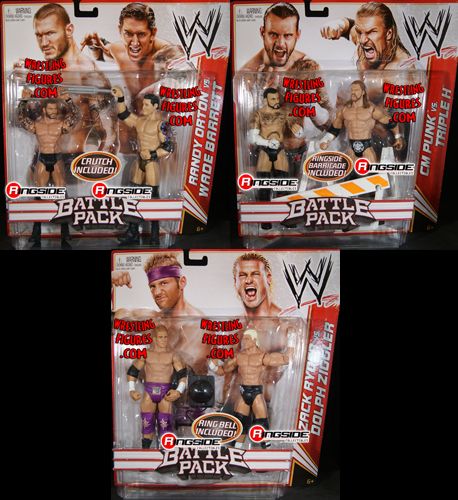 That's it for today! Let us know what you thought by dropping us a line on Facebook or leaving a comment, and be sure to check back tomorrow for more great deals and plastic-y goodness!